Shot down with a Patriot missile with 300 million yen per drone of 2,000 yen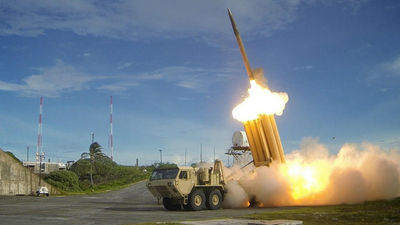 ByThe U.S. Army

The fact that the commander of the US military told that there was a case of shooting a 300 million yen Patriot missile to shoot down a drone of about 20,000 yen per machine has become a hot topic.

Small drone 'shot with Patriot missile' - BBC News
http://www.bbc.com/news/technology-39277940



CNN.co.jp: Commercial drone of 20,000 yen, shot down with 400 million yen Patriot
http://www.cnn.co.jp/fringe/35098336.html

This is the commander of David Perkins of the US Army Training Doctrine Corps,2017 AUSA Annual MeetingWhat I told you in. In the following movie, you can listen to the corresponding remark from around 15 minutes.

AUSA 2017 - GEN David Perkins, Commanding General, U.S. TRADOC - YouTube


According to Perkins commander, there was a case where the Patronot missile shot down a drone which can be bought at Amazon for about 200 dollars (about 20,000 yen). I heard that it was a unit of an ally that I did, but I do not know where it is.

Of course, it is not economically reasonable to use the Patriot missile, which is said to be one million dollars (about 300 million yen), and Commander Perkins said "If I am an enemy, a $ 300 quad on eBay If I buy Copter, I think that it alone will waste Patriot missiles. " We insisted that a large-scale surface-to-air missile defense network should be developed so that expensive Patriot missiles need not be bother to use.

Justin Blank of the Royal Defense and Security Research Institute of the UK said, "This case is an obvious overkill, the armies who own expensive weapons designed for inter-state warfare to civilian technologies that are cheap and easy to use The challenges we face when dealing with them are exposed, "explains the situation.

By the way, according to Mr. Blunk, although the Patriot missile's radar system is refined, it may be hard to effectively target a small drone.

In recent years, in Iraq there are cases where weapons are attached to drones to target security forces, so it seems that weapons are required to have appropriate weapons against the drones.
in Video, Posted by logc_nt