Mercedes' self-driving function 'Drive Pilot' does not require the driver to be legally liable for accidents during operation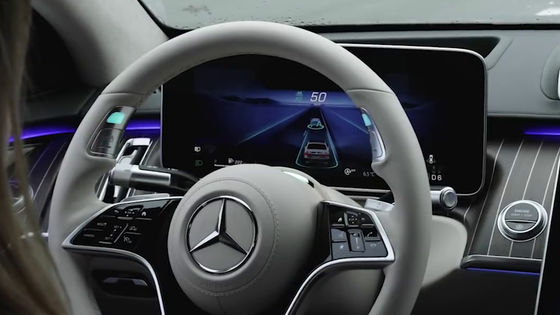 Even if you say 'automatic driving' in a nutshell, from level 1 that provides driving support such as lane keeping (LKAS), follow-up driving to the vehicle in front (ACC), and automatic braking, to level 5 where the system always performs all driving tasks. , There are multiple stages. Level 5 autonomous driving has not been put into practical use yet, and GM's 'Supercruise' and Tesla's 'Autopilot' monitor automatic driving by the system, and if the system is released, the driver will switch driving immediately. Stay at level 2 where you need to be ready. Mercedes has obtained international certification for Level 3 autonomous driving system in the autonomous driving function 'Drive Pilot', which does not require the driver to be legally responsible for driving the car until the system is released, until the end of 2022. It is said that the system will be available in the United States.

Mercedes Drive Pilot Beats Tesla Autopilot By Taking Legal Responsibility

https://www.roadandtrack.com/news/a39481699/what-happens-if-mercedes-drivepilot-causes-a-crash/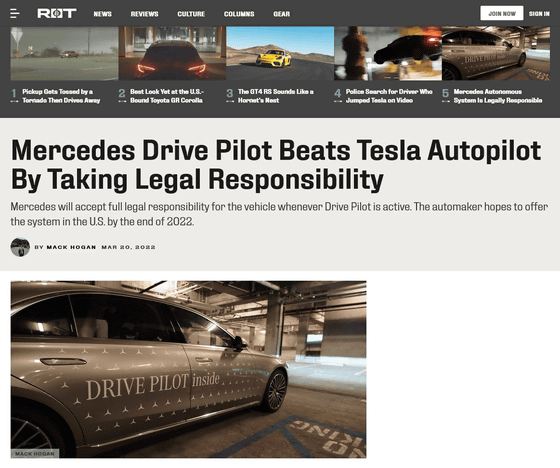 'Drive Pilot' is similar to other companies' automatic driving functions in that the system automatically controls speed, steering operation, and braking operation when driving on a specific highway at speeds of 40 miles per hour (about 64 km) or less. However, the difference is that once the system is activated, it is not legally liable for driving the car until it is released.

S-Class | Conditionally Automated Driving with the DRIVE PILOT --YouTube


Mercedes has already approved the use of this 'Drive Pilot' on all German highways and plans to deploy it in the United States by the end of 2022.

Development manager Grego Kugelman told the car information site Road & Track that he is aiming to obtain California and Nevada certification by the end of 2022. In the United States, there are few federal regulations on autonomous driving, and each state has its own legislation on autonomous driving.

Mercedes believes it needs to work with the government to disseminate new technologies, which is why it's level 3 instead of level 2 autonomous driving like GM's 'Supercruise' and Tesla's 'Autopilot.' He thought that it was necessary to have an automatic driving system.

For example, the current 'semi-automatic driving' system cannot recognize the approach of an emergency vehicle, and it is the driver's responsibility to clear the road when checking the emergency vehicle with lights or sirens. However, the 'drive pilot' will be legally responsible for the operation of the vehicle and must comply with the law. Since securing the course of an emergency vehicle itself involves complicated factors, when Mercedes detects an emergency light or siren with a microphone or camera, it issues a 10-second warning and asks the driver to change the course manually. It is a mechanism.

Thanks to the 10-second buffer provided before the system runs out, the driver can basically leave the driving to the system and concentrate on other things. The system is also capable of responding to aggressive driver interruptions, sudden stops, and debris rolling on the road. At the demonstration actually held in Los Angeles, the drive pilot showed smooth and effective driving even in the case of forward interruption, which requires the intervention of the driver for Level 2 autonomous driving. However, it seems that there were cases where the blinking orange color of the road sign was mistaken for the blinking emergency light of an emergency vehicle, and it was requested to switch to manual driving.