Major EV battery maker CATL announces ultra-fast charging battery that can run 400 km with 10 minutes of charging, will start shipping in 2024


A new electric vehicle battery ' Shenxing Superfast Charging Battery' that can run 400 km with just 10 minutes of charging, is a major EV (electric vehicle) battery manufacturer in China and also a supplier of Tesla.
Ningde Times New Energy Technology (CATL)
made the announcement at an event on August 16, 2023. CATL is appealing that Shenxing is the world's first
LFP battery (lithium iron phosphate battery)
that can achieve a mileage of over 700 km with one full charge.
CATL says its new fast-charging battery can add 250 mi in 10 min
https://electrek.co/2023/08/16/catl-new-fast-charging-battery-250-mi-10-min/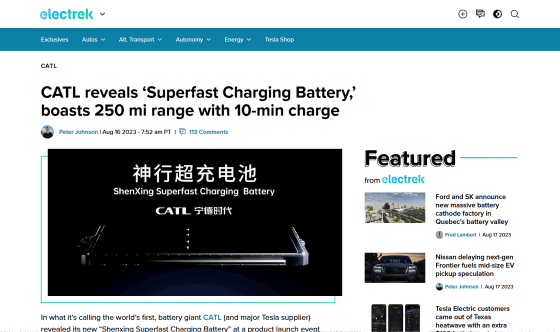 CATL Launches Shenxing Ultra-Fast Charging Battery, Opening Era of EV Ultra-Fast Charging | Contemporary Amperex Technology Co., Limited Press Release | Kyodo News PR Wire
https://kyodonewsprwire.jp/release/202308178178
CATL to produce world's fastest EV battery that offers 400km driving range with just 10 minutes of charging, to keep prices affordable for 'ordinary consumers' | South China Morning Post
https://www.scmp.com/business/china-business/article/3231316/catl-produce-worlds-fastest-ev-battery-offers-400km-driving-range-just-10-minutes-charging-keep
Tesla supplier CATL unveils battery that can add up to 400km of range in 10 minutes | TechCrunch
https://techcrunch.com/2023/08/16/tesla-supplier-catl-unveils-battery-that-can-add-up-to-400km-of-range-in-10-minutes/
CATL is an EV battery manufacturer based in
Ningde City
,
Fujian Province,
China, and was founded in 2011 shortly after the start of subsidies for EVs in China. CATL was founded by Robin Zheng, who is also the founder of
Amplex Technology (ATL)
, which boasts the top share of the global market for smartphone batteries. It overtook Panasonic
to become the world's largest EV battery maker
.
According to data released on August 3 by SNE Research, a South Korean market research company, CATL accounts for 36.8% of the battery capacity of newly registered EVs worldwide from January to June 2023. By far surpassing the 2nd place
BYD
with 15.7%, it maintains the number one position in the world.
January-June 2011 World Automotive Battery Volume: China's CATL Tops for 6 Consecutive Years, South Korea's 3 Companies Sink | 36Kr Japan | Largest Chinese Tech Startup Media
https://36kr.jp/246190/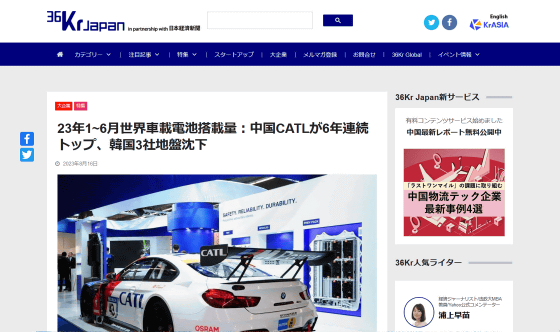 CATL has been
partnering with Tesla, an EV maker founded by Elon Musk, since 2020
, and in March 2023, it was reported
that a plan to establish a battery factory in the United States
jointly with Tesla was reported. We are
also partnering with Ford to establish a factory
.
Such CATL is focusing on developing LFP batteries that do not contain expensive metals such as nickel and cobalt. The LFP battery is a type of lithium-ion battery that uses lithium, iron, and phosphorus on the positive electrode side. Although it is excellent in terms of durability and price, it has a bottleneck in terms of low energy density and poor performance in low-temperature environments. It was.
However, in recent years, the problem of LFP batteries is being resolved, and Tesla and others are actively adopting LFP batteries. CATL says that the newly announced Shenxing 'embodies the perfect balance of long cruising range and easy charging,' claiming that it is an LFP battery that solves these problems.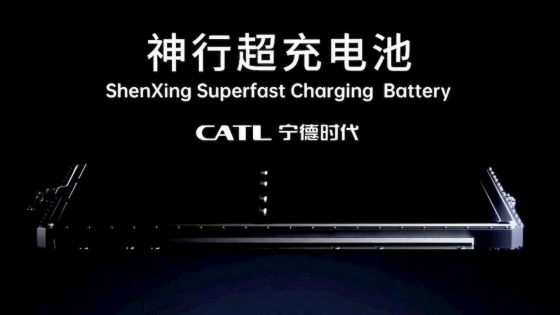 Shenxing can achieve a cruising range of 700 km or more with one charge, and can run 400 km even with a short charge of 10 minutes. Also, it seems that it is possible to charge up to 80% in 30 minutes even in an environment with a low temperature of -10 degrees.




CATL is expected to enter Shenxing's mass production by the end of 2023 and start shipping to the market in the first quarter of 2024. CATL Chief Scientific Officer Wu Kai said at the launch event, 'The future of EV battery technology must be firmly entrenched in the global technology frontier, not just for economic benefits. 'As people move from pioneering users to regular users, advanced technologies should be made available to everyone so that everyone can enjoy the fruits of innovation.'


in Ride, Posted by log1h_ik