Toyota's vehicle factory stopped operating due to lack of working disk capacity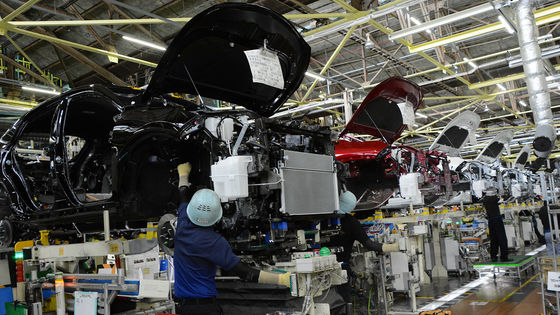 At the end of August 2023, a problem occurred in Toyota Motor Corporation's production instruction system and
operations at domestic factories stopped
, and the cause was ``a lack of work disk space during regular server maintenance.'' has been reported.
Regarding last month's production instruction system malfunction | Corporate | Global Newsroom | Toyota Motor Corporation Official Corporate Website
https://global.toyota/jp/newsroom/corporate/39732550.html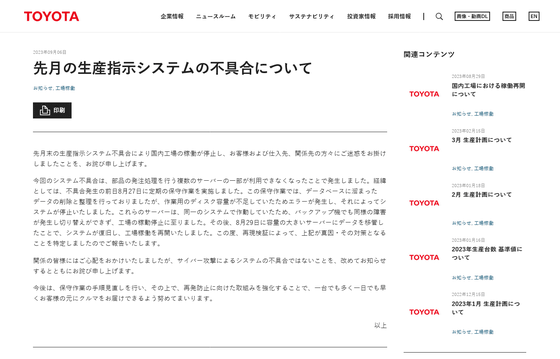 Toyota says filled disk storage halted Japan-based factories
https://www.bleepingcomputer.com/news/security/toyota-says-filled-disk-storage-halted-japan-based-factories/

On the morning of August 29, 2023, a problem occurred in Toyota's production instruction system, causing 25 lines at 12 of the 28 lines at 14 plants in Japan to stop. In the evening, three lines at the two remaining plants were also shut down, resulting in the suspension of operations at all of Toyota's vehicle plants in Japan.

All 14 Toyota Motor Corporation vehicle factories in Japan have ceased operation, with no prospect of recovery under consideration after the 30th (23/08/29 17:52) - YouTube


From the beginning, Toyota stated that the attack did not appear to be a cyber attack, but has now clarified that the cause was a lack of disk space.

According to Toyota's report, on August 27, 2023, when regular maintenance work was carried out on the server that processes parts orders, there was insufficient space on the work disk used to delete and organize data in the database. , an error occurred during the work. Because the main server and backup were running on the same system, the backup also stopped due to a similar error, and the entire factory was forced to stop.

Toyota reports that they were able to identify the cause of the problem through repeated testing, and that the problem was resolved by moving the data to a server with larger capacity.

In addition, Bleeping Computer, an IT news site, revealed in May 2023 that due to a database configuration error at Toyota, customers' vehicle location information has been accessible to anyone for 10 years, and that Toyota's customer vehicle location information has been publicly accessible for 10 years, and that it has been uploaded to the app's API and supplier portal. It points out that 2023 will be a year of frequent problems in terms of IT system security and data management, with flaws allowing unauthorized access to sensitive data.